Tennessee's three biggest cities had mayoral elections this year, but the way each candidate won and assumed office looked very different. Read on for a comparison of "How the Mayor Won" in Nashville, Memphis, and Knoxville this year.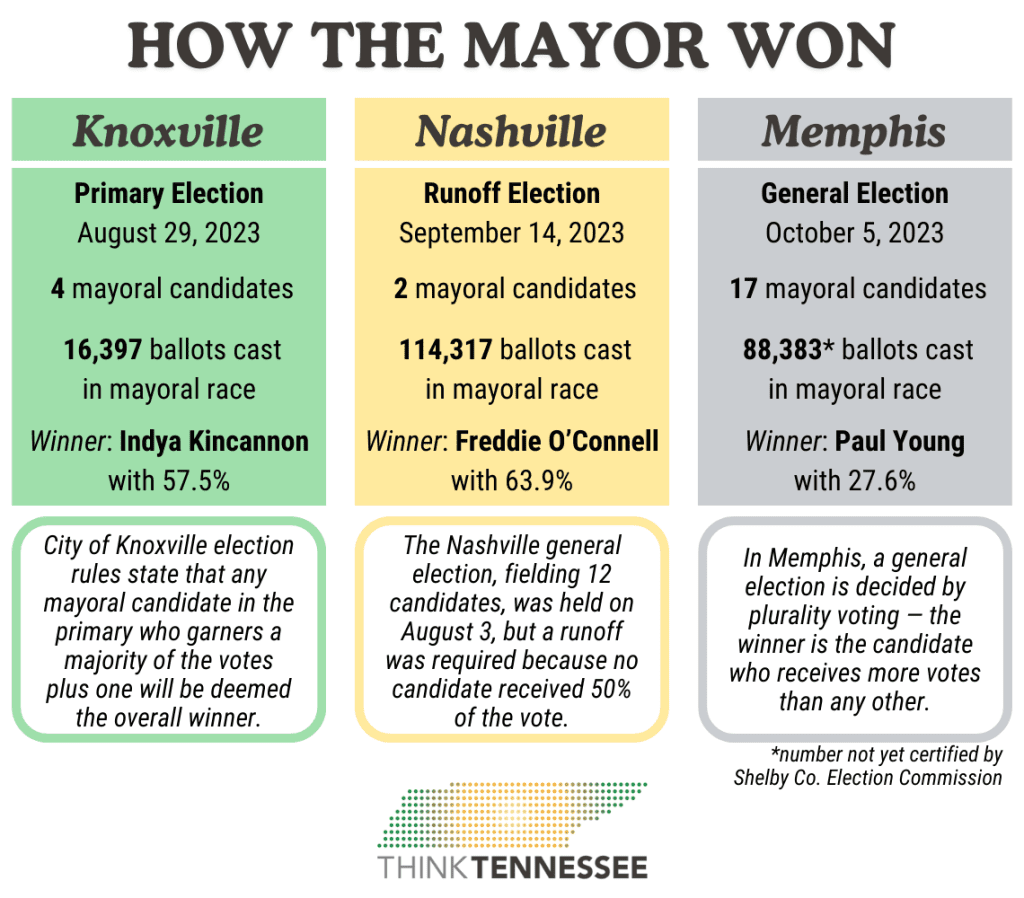 NASHVILLE
Nashville's election season ended on September 14th in a runoff that elected new mayor Freddie O'Connell and several Metro Council seats. Mayor O'Connell and Alice Rolli, the two runoff candidates, started their race in a field of 12 candidates in the August 3rd general election. No candidate garnered more than 50% of the vote in that election, however, so a runoff with the top two vote-getters was necessary. Official numbers show that more votes were cast in the 2023 mayoral runoff (with 114,317 ballots cast) than in each of the two most recent mayoral runoffs in 2015 (110,582) and 2019 (90,342). Early Voting turnout was particularly impressive, with 59.6% of the runoff ballots cast during Early Voting. Mayor O'Connell was inaugurated on September 25, just 11 days after the determinative election.
MEMPHIS
On October 5th in the Memphis general election, Paul Young was elected mayor with 27.62% of the vote. The crowded race for Memphis mayor split the vote significantly among 17 candidates, but it also brought high interest. Early Voting numbers in this year's Memphis election were encouraging – nearly 58,000 ballots were cast during the early voting period, more Early Voters than the last two city elections in 2019 and 2015. While the mayor's race has been decided, there are a handful of City Council seats that will head to a runoff election on November 16th. Unlike the mayors in Knoxville and Nashville, which are sworn in almost immediately, Mayor-Elect Young will not be sworn in until January 1, allowing more time for a transition.
KNOXVILLE
Next up is the Knoxville general election on November 7th. There are important positions to be decided in this general election – three City Council-at large seats as well as City Council District 5, and a municipal judge are on the ballot – but Mayor Indya Kincannon already secured her re-election during the primary on August 29th. City of Knoxville election rules state that any mayoral candidate in the primary who garners a majority of the votes plus one will be deemed the overall winner. Kincannon received 57.5% of the vote in the primary, so no ballots for mayor will be cast in the November general election.
There's still time to make a plan to vote in the general election if you're in Knoxville! Early Voting starts next week on October 18th and runs through November 2nd. October 31st is the final day to request an absentee ballot, and Election Day is Tuesday, November 7th.
OTHER TENNESSEE MUNICIPAL ELECTIONS
Franklin residents will also be heading to the polls to elect a new mayor and four at-large aldermen on their Election Day, October 24th. Jackson held their municipal election earlier this year in May with a mayoral runoff in June, re-electing their incumbent mayor for a second term. Other major cities in Tennessee will be holding mayoral elections over the next couple years – Chattanooga in 2025 and Clarksville, Murfreesboro, and Johnson City in 2026.